Nursery Unit
24 months – 36 months
Staff ratio 1:5
The Nursery Unit is divided into three base groups: Newts, Minnows and Waterlillies, each of which can cater for up to 15 children per day. Each base group has their own allocated room and staff. The three rooms  cater for messy play; role play; story corner; physical play; creative play and sensory exploration.
Daily activities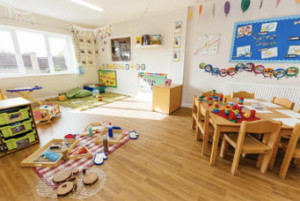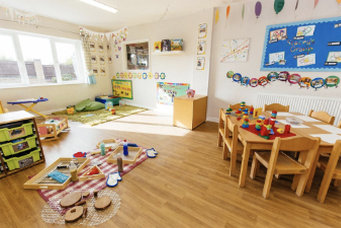 The daily activities are displayed on the notice boards located outside the unit, which links in with artwork and displays. It also lists the menu and other information relevant to parents. Children also enjoy a variety of activities throughout the day e.g. Art and craft, sand or water and story times. Also on a weekly basis they enjoy music, dancing and cooking. Children also have the opportunity to access the garden regularly throughout the nursery day. The unit has their own outdoor play area. Children in all base groups join for a considerable amount of time during the nursery day.
Record keeping
Observations are carried out on a regular basis by your child's key person and are put into each child's 'learning journey'. These are updated on a regular basis. We record children's all round development, and work within the Early Years Foundation Stage. A child's 'learning journey' is available for parent's to view at any time.
Rest Times
Most children in the unit have a sleep after lunch but for those who need more sleep, individual needs are catered for. Toddlers sleep on sleep mats with their own sheet and blanket. We work with parents when it is felt a child is ready to drop their lunch time nap.
Meal times
To encourage the children's social skills, children and staff eat their meals within the unit at low-level tables and chairs.
Toilet training
Nappies/wipes are included in the fees and in all cases we use sensitive wipes. If you require a certain brand of wipes to the ones we use then we ask that parents provide these for staff to use and clearly label them. We provide Sudocrem but again if parents wish to bring in a pot or tube (clearly labelled with a child's name on) we will be more than happy to apply other creams. The changing area is separate from the playrooms with low level toilets and potties. After consultation with parents we will start toilet training when a child is ready. If a child is at this stage we will ask parents to provide plenty of spare clothes, a spare pair of shoes and/or slippers.