Rooms
The baby unit has space for 12 Tiddlers and 15 Tadpoles which is divided into these two rooms known as base groups. Each base group has their own main play areas, which allows for sensory exploration; physical and role play; messy play; construction materials and quiet time. We then have a large separate cot room for our youngest children who sleep in cots, and a milk kitchen and nappy changing areas.
---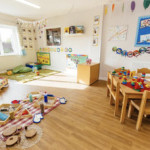 The Nursery Unit is divided into three base groups: Newts, Minnows and Waterlillies, each of which can cater for up to 15 children per day. Each base group has their own allocated room and staff. The three rooms are divided into areas which cater for messy play; role play; story corner; physical play; creative play and sensory exploration.
---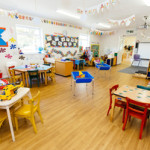 The preschool unit has space for up to 50 children and has two base rooms: The Frogs and Natterjacks, both groups are age appropriate. The unit has two rooms which are both divided into the following areas: Literacy area/technology area/art area/book corner/maths area/construction area/role play area/mark making area.
---